Welcome back to Foundation Friday from the Best Year Yet Foundation, the corporate foundation of InteraWorks. Today we are excited to introduce you to a difference-maker whose leadership inspires us with clear steps toward what is possible for the future.

A distinguished business leader, Caroline Rabar-Okong'o has the insights from decades of experience in the financial industry which, coupled with her commitment to servant leadership, led her to create a bespoke consulting and coaching practice that has empowered her "on a journey of achieving my aspirations while being true to my values."
Caroline is a Best Year Yet Partner and part of a global network of certified Best Year Yet facilitators and coaches who have leveraged Best Year Yet to make a difference for over one million people and over one thousand businesses worldwide. Currently partnering with the Best Year Yet Foundation, she spoke with us about her work with the Emerging Leaders Foundation in Kenya, a group that anchors a values-based approach to "leadership as service" for young men and women to impactfully participate and make a difference at all levels of society. Over the last nine years, ELF has directly trained over 10,000 young women and men, indirectly reached over 200,000 people, and started over 200 initiatives through their alumni.
What impact has Best Year Yet made for you and your clients? 
Using the Best Year Yet workshop and planning tools over the last 3 years, I have identified valuable personal and professional priorities, and began to achieve a balance in both my work and personal life. Using Best Year Yet, my clients have made life changing decisions that have placed them on paths of self-discovery, financial independence, career changes, positive outlooks and attitudes.
Can you share a little more about your work with the Emerging Leaders Foundation in Kenya? 
Emerging Leaders Foundation is a not-for-profit organization that seeks to grow the next generation of self-aware, values-driven, and ethical leaders through mentorship, coaching, and training. I am working with two teams: The Head Office staff in Nairobi and the county staff spread all over Kenya. I am also working with the founder on a one-on-one coaching basis.
What do you hope to achieve as you complete this round of programs?
My desire is for each team member to achieve both their personal goals and the organization's goals by the end of the year. The organization has an ambitious financial goal, which I hope to see the team rallying to achieve in 2021 using Best Year Yet. I hope to see each team member recognize the value of Best Year Yet and incorporate their learnings in the various youth leadership programs that ELF runs. I anticipate that this will greatly increase their impact as an organization.
What is the impact you are seeing so far?
The team's interactions add a layer of growth and self-development for both the individual and the team. As a result, I have seen growth in ambition, self-belief, positivity and courage to make difficult decisions within the team.
What's possible for the future in Kenya through this work? 
With the focus and alignment of goals to values that Best Year Yet brings, and the empowering paradigm shifts that participants in the workshop take, ELF has the capacity to transform the leadership of Kenya by motivating and empowering the youth to take positions of leadership and provide servant leaders with values that transform the delivery of services to Kenya. With an ethical servant leadership, Kenya can become a world class economy able to support her people to move beyond survival to a thriving nation!
Interested in making an impact like this on your community?
If you are an experienced coach or facilitator and would like to bring Best Year Yet into your own work, become a Best Year Yet Partner like Caroline – find out more by emailing Cathey.Stamps@InteraWorks.com
Sponsor a program like this for a nonprofit you love – you can sponsor a program for an organization that needs support by emailing Aaron.Cohen@InteraWorks.com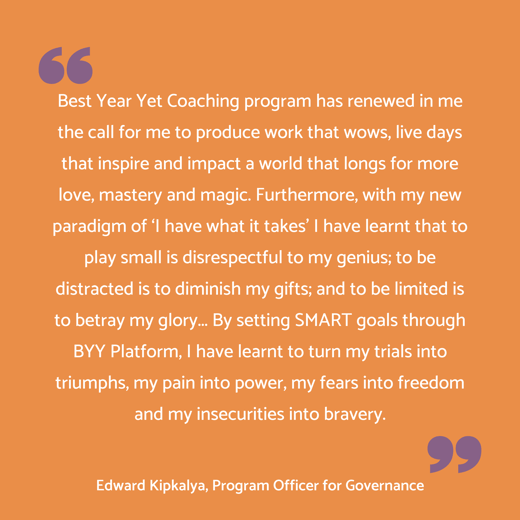 Thank you for joining us once again for Foundation Friday and please explore the links below to find out more about Caroline Okong'o, the Emerging Leaders Foundation, the Best Year Yet Foundation and InteraWorks.
See you next month!
Aaron Cohen
Executive Director
Best Year Yet Foundation